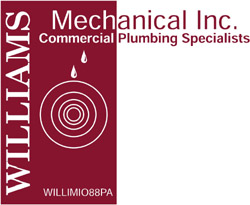 Welcome!
WILLIAMS MECHANICAL, INC. has proudly been in business for 25 years.
Located in Everett, WA we are signatory with:
Plumbers & Pipe Fitter Locals 32 & 26
Sheet Metal Workers Local 66

Our tradesmen are experienced and use the latest in equipment and material technology!
With a focus on Plumbing, HVAC and Process Piping, we regularly handle Bidder Design Plumbing Projects
and are active in the Plan and Specification bidding market.
Thank you for your interest in Williams Mechanical, Inc.!